Outpatient consultations
Secretaries
Opening hours: from Monday to Friday, 9am to 5pm
Telephone: +33(0)2 31 45 50 40
Location: 1st floor
Secure e-mail address for external healthcare professionals: cfb.cmca.baclesse@medical14.apicrypt.org
Secure e-mail address for hospital-based healthcare professionals: cfb.cmca.baclesse@medical14.apicrypt.fr
Hospitalisation
Intermediate Care Unit
Visiting times: from Monday to Sunday, 2pm to 8pm
Nursing office: Call the switchboard at +33(0)2 31 45 50 50 and ask for the 'USC' (intermediate care unit) nursing extension
Location: 1st floor
Secure e-mail address for external healthcare professionals: cfb.cmca.baclesse@medical14.apicrypt.org
Secure e-mail address for hospital-based healthcare professionals: cfb.cmca.baclesse@medical14.apicrypt.fr
Department missions
The key mission of the anaesthesiology team is to ensure safety and comfort for patients throughout their peri-operative care, from the anaesthesiology consultation to hospital discharge after surgery.
The anaesthesiology team ensures a number of transversal missions:
Care: installation of intravenous catheters, management of critical emergency situations throughout the establishment
Close collaboration with other teams within the centre, including participation in committees: Critical emergency committee, pain management team, food and nutrition liaison committee, haemovigilance and TSHC (Transfusion Safety and Haemovigilance Committtee), quality department, pharmacy and COMEDIMS (medication and sterile devices committee), etc.
Teaching: AFGSU (certificate of training in emergency care) training, medical intern training, critical emergency training in the operating theatre, etc.
University teaching: an anaesthesiology intern is part of the team and intervenes in the operating theatre, during consultations and in the intermediate care unit, always under the supervision of a senior anaesthesiologist.
Research: research projects within the context of theses or dissertations, participation in research work with other healthcare establishments, etc.
The department's professionals
Head of department:
Cadre de santé : Cécile MIGUEL
Anaesthesiologists:
Dr Axel Coquerel
Dr Christine Dessaux
Dr Marine HUBERT
Dr Marion Lafosse
Dr Vincent Leprince
Dr Eléonore Mulac-Vauclair
Dr Pierre Verrier
Dr Alexandre Uk Hel Chau
Other professionals: 1 medical assistant: Corinne Marie
For the operating theatre: 12 state-qualified nurse anaesthetists, 1 state-qualified nurse for the recovery room
For the surgery departments and the Intermediate Care Unit: 15 state-qualified nurses, 9 nursing auxiliaries
Care offer, expertise and specific training
Our care actvities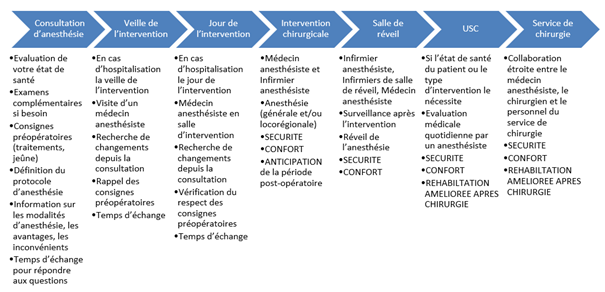 Expertise
General anaesthesia: a highly versatile anaesthesiology team, techniques adapted to suit the surgical procedure, the patient's state of health and the specificities of cancer care (opoid-free anaesthesia technique, command of difficult intubation techniques). Particular expertise in peri-operative management of major salvage surgery that is not conducted in other healthcare establishments (e.g. HIPEC, complex sarcoma exeresis, etc.)
Locoregional anaesthesia: associated with general anaesthesia or alone, enabling improved pain management and post-operative recovery (rachi-analgaesia for gastric and gynaecological surgery, specific loco-regional anaesthesia techniques for breast surgery, etc.).
Hypnosis: Medical hypnosis is integrated within an impetus towards improved quality in patient care in the operating theatre and in the surgery department. Several medical and paramedical professionals in the anaesthesiology team are currently being trained in hypnosis. Awareness of the entire operating theatre team has been improved through screeening of a video on positive communication.
Installation of central catheters (picclines in particular) under local anaesthesia, upon request from other centre physicians, to enable the administration of certain specific drugs.
IMC (Intermediate Care Unit) and management of emergency situations: management of peri-operative nutrition in association with the mobile nutrition team, of post-operative pain, and of post-operative complications.
Enhanced Recovery After Surgery (ERAS): the anaesthesiology team is actively involved in the ERAS approach which offers patients faster recovery after surgery.
Patient blood management: to optimise peri-operative care, particular attention is paid by the anaesthesiology team to managing anaemia (decreased haemoglobin level = insufficient red blood cells). Adapted care is proposed on a case-by-case basis, depending on the type of surgical procedure and the situation of each patient.
Green Bloc: sustainable development approach initiated by the nurse anaesthetists and applied by all operating theatre staff.
Specific training
All resuscitation anaesthesiologists in the team are versatile and work equally in the operating theatre, in consultation, and in the intermediate care unit. They strive to remain trained in the latest techniques throughout their career in order to offer patients the best possible care, in line with the latest medical advances.
Loco-regional anaesthesia and pain management: Dr Mulac-Vauclair and Dr Lafosse both hold the DU (university diploma) in 'LRA' (loco-regional anaesthesia) – Dr Leprince also has a DIU (inter-university diploma) in pain management
Hypnosis: Dr Butin is currently undergoing training (2020) in medical hypnosis – Dr Dessaux has been practicing hypnosis for several years – Stéphanie Gibier, one of the our state-qualified nurses is also trained in hypnosis
Cardiac ultrasound: Dr Leprince has a DIU (inter-university diploma) in ultrasound techniques in anaesthesia-resuscitation (cardiac ultrasound option) and Dr Verrier has a DIU (inter-university diploma in cardiac ultrasound
Resuscitation: Dr Coquerel has a DU (university diploma) in resuscitation in infectious pathologies and a DESC (specialised cancer study diploma) in medical resuscitation – Dr Verrier has a DESC (specialised cancer study diploma) in medical resuscitation and a DIU (inter-university diploma) in patient care and resuscitation in nephrology
Medical simulation: Dr Butin and Michèle Marie (state-qualified nurse) are trainers in medical simulation
Practical training in paediatric anaesthesiology for the entire team
Adapted physical education: Dr Coquerel is currently undergoing training (2020) towards certification in sports medicine
The department's equipment and facilities
IMC (Intermediate Care Unit): oscilloscopes, ventilators, defibrillator
Operating theatre, post-operative recovery room and interventional radiology /brachytherapy rooms: oscilloscopes, ventilators, defibrillators, ultrasound systems, virtual reality headset, anaesthesia depth monitors, analgesia monitors, curarisation monitors, fluid warmers and heated blankets, oesophageal doppler.
Department results
2019 activity data
3,409 procedures under general anaesthesia
3,365 anasthaesiology consultations
407 piccline installations
403 hospitalisations in the IMC
Research themes / Projects
E-consult: visual aid for providing information on anaesthesia to patients during consultation
Development of teleconsultation: possibility for certain patients, depending on the type of procedure, to benefit from a remote anaesthesiology consultation
Thoracic epidural: implementation of this loco-regional anaesthesia technique, which can prove beneficial for certain procedures
Integrating adapted physical education in the ERAS (Enhanced Recovery After Surgery) approach
Partnerships
At regional level: CHU university hospital in Caen for the hosting of medical interns and student nurses and participation in research projects
At national level: Institut Curie for practical training in paediatric anasthaesiology in proton therapy
Dispensed training
Initial AFGSU (emergency care) training
Continuing/booster AFGSU (emergency care) training
Lectures at the nursing school
Training and practical role playing for IMC staff: pressor amines, cardio-respiratory arrest, crash induction
Published :
Last updated :