What is it?
Supportive care includes all the necessary care and support offered to sick patients, over and above their specific treatment, when applicable, throughout the period of serious disease.
The aim of such care is to contribute towards the overall quality of care for cancer patients. This is why access to supportive care must be available as from cancer diagnosis, during the curative and/or palliative care phase and up to the post-cancer period, independently of where the patient is staying – in hospital or at home.
Supportive care is not a new speciality but the coordinated organisation of a number of different skills involved in patient care, concurrent to specific oncological treatment.
Supportive care in oncology was promoted in France's latest Cancer Plans and through the decennial strategy in the fight against cancer for the 2021-2030 period, where it is included in theme 2, entitled, 'Limiting sequelae and improving patient quality of life'. Hence, quality supportive care must be proposed, accessible and adaptable, in order to best satisfy patient needs.
Outpatient consultations
Oncology supportive care is available at the centre, exclusively by prior appointment.
Secretaries
Opening hours: from Monday to Friday, 9am to 5pm
Telephone: +33(0)2 31 45 40 02
Location: 4th floor 'Consultation and Workshops' (on your left as you leave the lift)
Hospitalisation
Secretaries
Opening hours: from Monday to Friday, 9am to 5pm
Telephone: +33(0)2 31 45 86 34
Location: 4th floor 'Hospitalisation' (on your right as you leave the lift)
Day and week hospitalisation department
The department is open from Monday to Friday, 9am to 5.30pm.
Hospitalisation on a one-day basis: essentially to conduct supportive care evaluations: oncogeriatric, nutrition, pain.
Hospitalisation on a weekly basis: to provide supportive care: pain management, enteral or parenteral nutrition, etc.
Our supportive care offer
ATOSS is the name of the centre's Supportive Care department
48 years of expertise
At the Centre François Baclesse, oncology supportive care has been implemented since 1973 by successive management teams, even prior to any such recommendations via national Cancer Plans.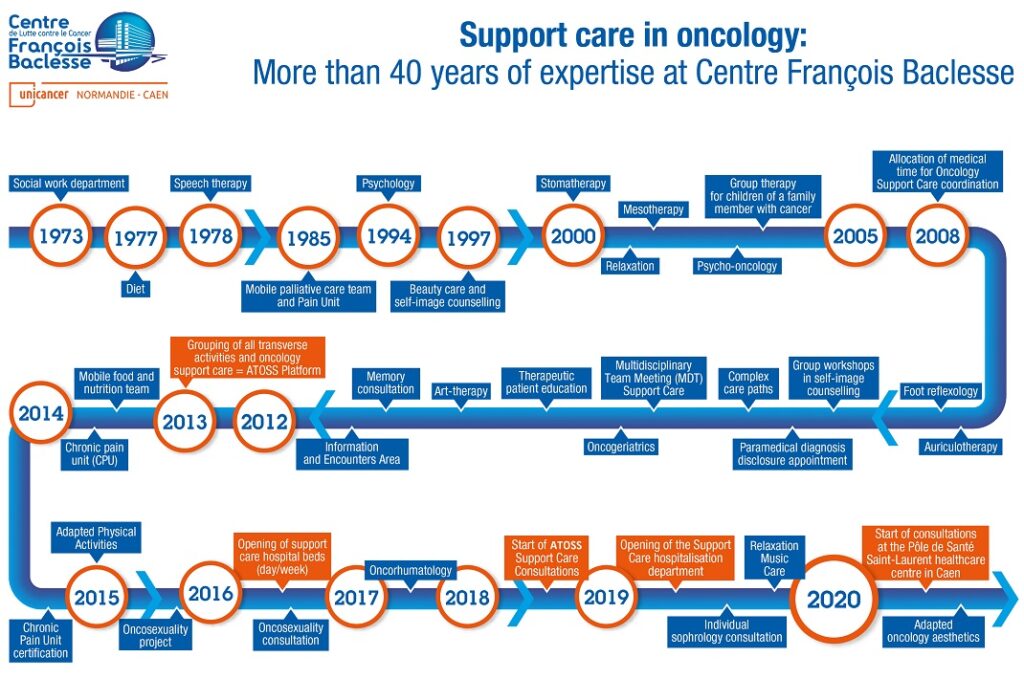 The Centre's oncology supportive care offer has progressively been enhanced and is now reunited within the ATOSS department (for 'Activités Transversales en Oncologie et Soins de Support' = Transversal Activities in Oncology and Supportive Care'). This unique site and dedicated phone number offer improved visibility, equally for patients and professionals, some of whom previously worked in other centre departments or externally.
This organisation also offers improved coordination of healthcare provision, both internally and externally, whilst better satisfying the needs of patients and carers. The department also conducts its own research and teaching activities.
Supportive care is based on the centre's philosophy: INNOVATION, HUMANITY, COOPERATION, QUALITY.
The ATOSS department's missions are the same as those of the centre: care, teaching, research.
The ATOSS coordination and supervision team
Department coordination
ATOSS platform coordinating physician: Dr Claire Delorme
ATOSS head nurse: Marielle Renou
Supportive care coordinating physician: Dr Virginie Leloup-Morit
Transversal activities coordinating physician: Dr Stéphane Corbinais
Supervisors by activity
Chronic pain unit – Supervisor: Dr Franck Le Caer
Psycho-oncology – Supervisor: Dr Faïz Kassab
Nutrition and diet – Supervisor: Dr Sylvie Khan
Social work department – Supervisor: Dr Virginie Leloup-Morit
Mobile palliative care team – Supervisor: Dr Marie-Christine Grach
Physiotherapy, Stomatherapy, Adapted Physical Education – Supervisor: Dr Virginie Leloup-Morit
Complementary medicine: auriculotherapy and mesotherapy – Supervisor: Dr Virginie Leloup-Morit
Beauty care, foot reflexology, sophrology – Supervisor: Dr Virginie Leloup-Morit
Patient education – Supervisor: Dr Isabelle Bonnet
Addictology: smoking cessation – Supervisor: Dr Catherine Dubos-Arvis
Intimacy: Oncosexuality – Supervisor: Dr Carine Segura-Djezzar
Elderly patient assessment: Oncogeriatrics – Supervisor: Dr Heidi Solem-Laviec
Information and Encounters Area – Supervisor: Dr Carine Segura-Djezzar
Supportive care hospitalisation – Supervisor: Dr Virginie Leloup-Morit
Published :
Last updated :