Contact
Opening hours: from Monday to Friday, 8.15am to 8.15pm
Telephone: Secretaries – +33(0)2 31 45 50 30
Location: ground floor
If you need urgent medical advice concerning your treatment at the day hospital: after 6pm, at night or on weekends, you can call the switchboard at +33(0)2 31 45 50 50. You will be put in touch with the doctor on call.
The team
Head of department: Dr Audrey Faveyrial
Head nurse: Samuel Cordier
Medical oncologists:

Dr Corinne Delcambre
Dr Audrey Faveyrial
Dr Margaux JACOBS
Dr Gwenn Le Gall
Dr Adeline Morel
Dr Pauline Rottier
Missions
The oncology day hospital has 48 places.
This department welcomes all patients receiving intravenous anticancer treatment for durations not in excess of 12 hours. It is also the main department for transfusion: red blood cells or platelets.
Your stay in the Day Hospital – Oncology
An anticipative chemotherapy system, referred to as Optima, offers improved patient care by reducing waiting time. Over 80% of patients can benefit from this innovation.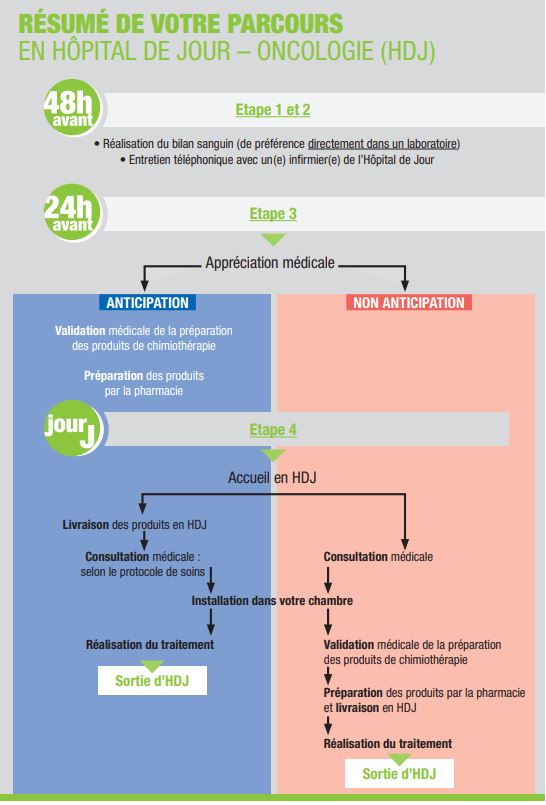 Further information
Patients cared for in this department are provided with a detailed welcome booklet:
Published :
Last updated :